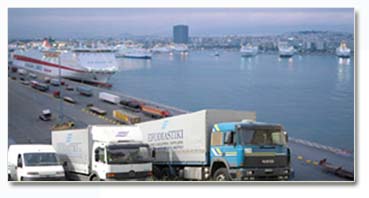 EFODIASTIKI SA has been supplying the marine and shipping industry as well as shore based heavy industry with consumable materials, high quality tools and equipment, since 1985.
In addition to above, we also provide our clients with technical information and support, helping them to choose the correct item which will cover their demands and also to give solution to small technical problems.
We offer fast, reliable, round the clock and trouble free service in all Greek ports for top quality deck and engine stores, consumables and equipment as well as cabin stores.We also provide life boat and safety equipment inspection and service.
Through these years and due to services that we provide we have gained the respect of our clients as well as our rivals and have established a solid reputation.
Among our clients you will find many well established and successful shipping companies, industries, factories and workshops and many others.
Apart from main office and adjacent storage facilities we also have in our use six more storage warehouses in the Piraeus area.
We soon realised the importance of keeping an extensive inventory on a very wide range of products with applications in the Marine and Industrial sector.
The major product lines we stock are:
Our service, our reputation and the winning team spirit prevalent in our establishments, have given us the privilege and the honor to act either as representatives or as distributors for the products of the following companies, in Greece:
Aderco Europe (an Aderco Canada subsidiary), supplying fuel oil additives, Uni-Joint Holland (pipe couplings), Weicon Germany (special epoxy and ceramic fillers and adhesives), Duspra –Beco Holland (deck equipment and machinery), Signfix England (banding and fixing metal tapes and equipment), Wolf Safety Lamp England (flashlight USCG approved, hand lanterns, air driven lamps), F.Richter Germany (oil gauging tapes), Gedore Germany (high quality hand tools), Ega Spain (high quality hand tools), Larzep Spain (hydraulic jacks, pumps and equipment).
We must stress here that through our extensive network of associates worldwide, we export goods to the United States, Canada, Panama, South Africa, Belgium, Holland, Norway, Singapore, Egypt and other countries.
The experienced and qualified staff, the well organised warehouses, our privately owned fleet of vehicles, our competitive prices combined with the high quality products, enable us to deliver 24-7 to any port in the world, thus guaranteeing the fulfillment of the customer's needs.
In all the years of our continuous operation we have been offering quality products, representing in Greece some of the leading manufacturers of industrial equipment and maintenance products with applications both in the Marine and Industrial sector.
Our company is member of the International Marine Purchasing Association (IMPA), as well as the International Ship Suppliers Association (ISSA).As a result of our quality services, our operation processes were certified with BUREAU VERITAS QUALITY INTERNATIONAL EN ISO 9002-1994 in 1999 and re-certified with ISO 9001-2000 in 2002.
For Finacial Statements please Click Here to download PDF.
Result for the Year 2013 please Click Here to download PDF.
Result & Financial Statements for the Year 2014 please Click Here to download PDF.
---